….. to have a cute little tea party?….. all in favor, say aye!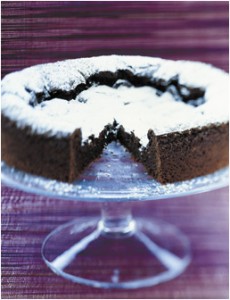 I would suggest this cake for the party….. perfect on a Friday afternoon:
Chewy browniecake. Via Leila Lindholm - www.leila.se
50 g butter
50 ml cooking oil
2 ecologic eggs
200 ml granulated sugar
100 ml brown sugar
250 ml all purpose wheat flower
4 tablespoons good quality cacao
2 teaspoons baking powder
1 teaspoon vanilla sugar
A pinch of salt
Butter and bread crumbs for the baking tin
50 g dark quality chocolate 70 %
1. Preheat the oven to 300°F/150°C.
2. Melt the butter in a saucepan and add the oil.
3. Beat eggs, granulated sugar and brown sugar until light and fluffy. Add the butter-oil.
4. Sift the dry ingredients together and add them to the mixture.
5. Spoon the mixture into a battered pan, about 10 inches big, and press down broken chocolate chunks in the mixture.
6. Bake the cake in the middle of the oven for about 30 minutes until a cake tester inserted in the centre comes out somewhat sticky.
ENJOY
Lizzy