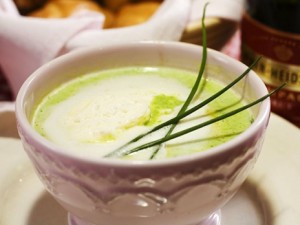 ….. is a classic with an exclusive twist.
Ingredients (for 4)
3 dl green peas (frozen)
1 chopped onion
2 tablespoons butter
1 tbsp flour
1 tbsp chopped celery
0.5 l chicken broth
3 dl cream
1 tbsp lemon juice
salt & pepper
celery salt
8 stalks fresh chive
sour cream
Champagne (depending on your wallet)
Do this
Peel and chop the onion and fry it in butter over low heat until soft and acid has disappeared.
Divide celery into small pieces. Stir in the flour with the onions and add celery, broth, cream and lemon juice. Simmer for about 10 minutes.
Season with salt, pepper and celery salt. Stir in peas and let them just get hot, so they retain the green color. Mix the soup smooth.
Serve the soup hot with a drop of Champagne or sparkling wine. Top with a few straws chives and a little sour cream.
Tips: If you want to serve the soup in the true traditional form, it shall be topped with whipped cream (omit sour cream then).