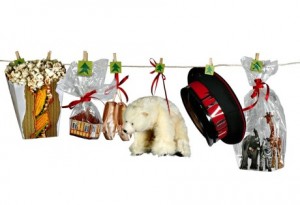 We are fast approaching December 1…… and pressure grows to get this year's package-calendar ready for the loved ones…… but where to go, if you are missing 24 small packages?
Vi nærmer os med raske skridt d. 1. december…… og hermed presset for at få pakkekalenderen klar til dem man holder af…… men hvor går man hen hvis man mangler 24 små pakker?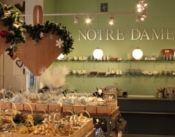 Lots of glitter:
If you love glitter and belong to the feminine sex "Notre Dame" is a treasure chest. You'll find everything from small delicate glass Christmas hearts and glitter roses to small candlesticks ……… if you like decorated porcelain, fine glass and beautiful tea towels and associated potholders, take care of your credit card, as you can easily be lured to exceed your credit limit here….. and if you started to think about this year Christmas cards, you find the most beautiful cards here (they can be purchased individually).
Godt med glimmer:
Hvis du er til meget glimmer og glitter og er af det feminine køn, så er " Notre Dame" et skatkammer. Her finder du alt fra små fine glas julehjerter og glimmer roser til små stager……… hvis du har hang til udsmykket porcelæn, fine glas og skønne viskestykker med tilhørende grydelapper, så pas godt på kreditkortet….. og er du begyndt at tænke på årets julekort, så fås de smukkeste kort her, og kan købes stykvis.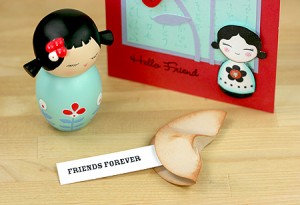 Sound & Noise:
"The China Shop" is always good for a gimmick or two. Here you find small funny instruments like harmonica and odd percussion (suitable especially if the calendar is for a child), or perhaps a fun looking tin animal that can jump when pulled up?. You will also find sweet metal lunchboxes, fine small purses and fortune cookies here.
Lyd & Larm:
"Den Kinesiske Butik" er altid god for en dims eller to. Her er små sjove instrumenter som mundharmonika og sære slagtøj (måske især velegnede hvis kalenderen er til et barn), eller måske en sjove blikfigurer til en tyver, som kan hoppe når de trækkes op?. Her finder du også søde metal madkasser, fin små punge og små fortune cookies til to kr. stykket.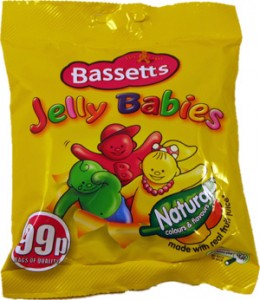 Sweet fancy:
In the English shop "Abigails" you can get candy of the sort that normally would not exist in a Danish shop: small fun rolls with sugar sweets and fine candies in colored paper may be an idea for some of the small packets. But if the calendar is for a man with a penchant for beer, the package might contain vinegar chips (can be purchased in small packages for seven kr).
Søde påfund:
Hos den engelske butik " Abigails" kan man få slik af den slags som ellers ikke findes i danske butikker: små sjove ruller med søde sukkerpastiller og fine karameller i farvet papir kan være en ide til nogle af de små pakker med tal på. Men er kalenderen til en mand med forkærlighed for øl, så kan et forslag være vinegar chips  som fås i små pakker til syv kr. stykket.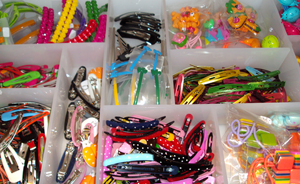 The colorful choices:
"Store NØ" is featuring Christmas decorations in bright colors, a little neon and fun glass beads shaped as for example: a frog (to her who have kissed too many perhaps?). I think especially the elastic core with fine beads in seventy-style and lovely barrettes (with and without dots) is a great present for large and small girls.
Kulørt og godt:
"Butik NØ" byder på julepynt i klare farver, lidt neon og sjove glaskugler f.eks. formet som en frø (til hende som har kysset for mange måske?). Men til pakke kalenderen syntes jeg især at elastikkerne med fine kugler i halvfjerdserstil og spænderne i lak (med og uden prikker) er gode til store og små piger.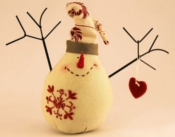 The classic:
"Sisters Grenes" is a true friend in need….. beyond Christmas decorations and small bags of candy, you find little things as glass beads, odd pencil sharpeners, playing cards, pixie hat, bouncing balls and bags of water balloons…. you'll also find everything in gift wrapping paper, colored gift ribbon, tape, etc. to be used for wrapping…. important stuff, as the joy of expectation when one looks at the many fine packages, is still the greatest part of Christmas!
Den klassiske:
"Søstrene Grene" er en sand veninde i nøden….. for her finde du udover julepynt solgt i stykvis og små poser med slik, også småting som glaskugler, mærkelige blyantsspidser, spillekort, nissehuer, hoppebolde eller poser med vandballoner til en femmer…. du finder også alt i gavepapir, bånd, tape etc. der kan bruges til indpakningen….  super vigtigt, da forventningens glæde når man kikker på de mange fine pakker, stadig er den bedste del af julen!
Todays post on: Delightful People