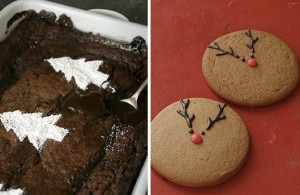 Og nu da vi taler om julen….
Christmas baking doesn't have to be a long and complicated story. Here are a simple tip from stylist Mattew Mead, which can quickly get you and any cake you have baked, in the right Christmas mood, and the same applies if you have chosen to buy ready-made Gingerbread.
Det behøver ikke at være en lang og kompliceret historie, at skulle jule bage. Her er to enkle tips fra stylisten Mattew Mead som hurtigt kan få en hvilken som helst Bradepandekage i julestemning, eller hvis du har valgt at købe færdige peberkager, kan få dem til at se hjemmebagte ud.
Cake: Cut template of Christmas tree or another easy Christmas motif. Place the template on the cake and sprinkle a snowfall of icing sugar on the cake.
Bradepandekage: skær en skabelon af et grantræ eller et andet let jule motiv. Placer skabelonen ovenpå kagen, og strø et snefald af florsukker ud over kagen.
Gingerbread: decorate cakes with reindeer horns of chocolate, and finish with a colorful nose of icing sugar.
Peberkager: dekorer kagerne med rensdyrhorn af chokolade, og afslut med en farvestrålende næse af florsukker.
Simple and sweet…… in more than one way
Enkelt og sødt……. på mere end en måde
Photo: Mattew Mead