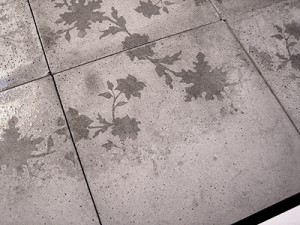 I always say to myself… after rain comes sun ….. it'll fix it all …. and it is never so bad, that nothing good comes out of it….
For example, check out these "Solid Poetry tiles"
Efter regnen kommer sol, plejer jeg at tænke….. det ordner sig alt sammen…. og det er aldring så skidt, at det ikke er godt for noget….
Se for eksempel disse "Solid Poetry tiles"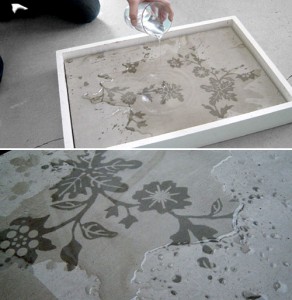 Design Academy graduates Susanne Happle and Frederik Molenschot created 'Solid Poetry' for their graduation project. These concrete tiles reveal a flower pattern when they get in contact with water. This is so clever, to make use of the natural elements……… especially in a country like The Netherlands (or here in Scandinavia) where it can rain a lot!
Design uddannede Susanne Happle og Frederik Molenschot har udviklet  'Solid Poetry' som deres afgangsprojekt. Disse beton fliser afslører et blomst mønster, når de kommer i kontakt med vand. Dette er smart tænkt, at gøre brug af de naturlige elementer…… især i et land som Holland (eller her i Skandinavien), hvor det kan regne meget!