This week's weight loss, made me think of the calories I missed out on. Like for example this lovely crème brúlée……..
Ugens vægttab fik mig til at tænke på de kalorier jeg gik glip af. Som for eksempel denne dejlige CHOKOLADE CRÈME BRÛLÉE MED FRISK LIME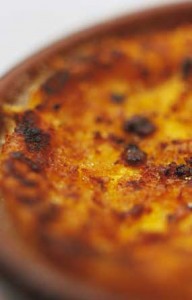 150 grams granulated light chocolate
5 egg yolks
50 g. sugar
5 dl whip cream
1 lime
a little sugar
150 g. granuleret lys chokolade
5 æggeblommer
50 g. sukker
5 dl fløde
1 lime
lidt rørsukker
Bring 5 dl cream, slowly close to the boiling point. Whip egg yolks and sugar white, pour half of the hot cream into the mass and stirrer. Then pour the mass into the pot and return to low heat, and stirrer (it should not boil) for approx. 3-4 min. Remove the pot from the heat and add chocolate, stirrer while the chocolate is melting. Pour into small portion molds. Cut of zest of the limes and save. Cut lime fillets into small pieces and divided into portions molds. Let molds rest a day in the refrigerator. Before serving, sprinkled with sugar and gratin in the oven under the grill (strong heat) to the sugar caramelized. Then grate lime zest on top and served!
5 dl fløde bringes langsomt tæt på kogepunktet. Æggeblommer og sukker piskes hvidt, heri hældes ca. halvdelen af den varme fløde. Massen hældes retur i gryden og legerer under omrøring ved svag varme (det må ikke koge) i ca. 3-4 min. Gryden tages fra ilden, og chokoladen tilsættes og smelter nu under omrøring i den varme masse. Herefter hældes den i små ildfaste portionsforme. Skal og hinde fra limefrugten skæres fra og gemmes. Limefileterne deles i små stykker og fordeles i portionsformene, som hviler et døgn i køleskab. Før servering drysses formene med rørsukker og gratinerer under ovnens grill (kun stærk overvarme), til sukkeret karamelliserer. Herefter river man fint lidt af den grønne limeskal på toppen, og der serveres!
Via: www.summerbird.dk