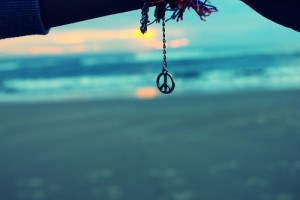 ….. we're are back from Spain and we have taken the wonderful summer weather and a pair of amazing Spanish-inspired recipes with us home.
We are now in the thick of summer, and it's time to sway up to the bar for some ice cold sangria (please don't go to that bad place in your mind of sickly sweet concoctions and hangovers so horrible that you'll swear off the stuff). Great sangria can be refreshing and it's perfect for a summer party.
Nowadays with the endless varieties of wine, types of fruit and herb mix-ins to choose from, there's a signature sangria out there for everyone.
For todays Happy Hour we're jumping on the fan wagon of Cava, the slightly spritzy white wine from Spain. We're mixing it up with some peach brandy and ripe white peaches for a pitcher perfect happy hour.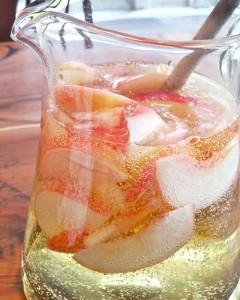 Sparkling White Sangria
All you need (serves 4 to 6)
2 to 3 white peaches, sliced (2 if they are large, 3 if they are small)
3/4 cup peach brandy
1 bottle chilled Cava
1 liter chilled white peach seltzer water
Do this:
In a pitcher, place 3/4 of the sliced peaches (saving some for garnish) add brandy and let the peaches soak for 20-30 minutes.
Add the Cava and seltzer water.
Stir with wooden spoon to mix. Pour into ice filled glasses and top with a couple of fresh peach slices.
Tip: Wrap some melon in Prosciutto and you've got a gorgeous, not to mention delicious, happy hour.