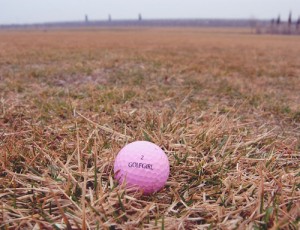 ….. I would disappear on you?! Ta-daaaa, here I am, again! You won't get rid of me so easily. I know that I'm less and less present, but in life there are highs and lows, and right now I don't really stay much in front of the PC, so the blog suffers a little, but as you can see, I always come back.
This time the word "return" takes on new meaning….. 'cause in the meantime, I have been "living" on the golf course for a few days. I won't lie to you; it has been an emotional rollercoaster, wildly exhausting, but quite a journey.
I cannot complain that golf has taken over my life (for a limited time) because the overall experience has been positive, but I admit that this time the coming back had a special flavor, much better than the bittersweet one, that usually every coming back from a "journey" has.
And, talking about sweet flavors (just like I love them), here is the recipe for Tarte Tatin, a dessert that I love beyond all reasonable doubt: A timeless French classic, a simple dessert, never cloying and perfect for any occasion.
Enough words: eat it, at least with your eyes, or preferably, with your mouth.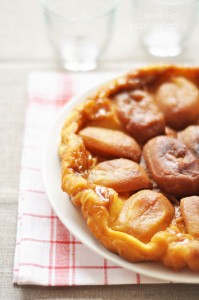 TARTE TATIN
All you need (for a 24 cm baking pan):
a roll of puff pastry
or, for the dough (if you do not want to use ready-made dough):
200 g all-purpose flour
a pinch of salt
100 g butter
3/4 tablespoons cold water
140 g sugar
2/3 tablespoons of water
a few drops of lemon juice
about 1 kilo of apples
Do this:
Put the flour in a bowl with the salt, and then add the cold butter cut into small pieces and begin to crumble it together with the flour with your fingertips. When you have a grainy mixture, pour 3 or 4 tablespoons of cold water and knead very quickly. Form a ball and put it to rest in the refrigerator for at least half an hour.
(Obviously you'll skip this phase if you use the ready-made dough).
Meanwhile, peel the apples and cut them into 8 slices, then leave them aside and make the caramel sauce.
Put sugar, 2 or 3 tablespoons of water and a few drops of lemon juice (to help the caramelization, without crystallization) in a thick bottomed pan, and simply let all melt together, without even mixing.
Grease a pan (don't use a spring form pan, 'cause apples release a lot of cooking water). Cover its bottom with your warm caramel sauce. Then arrange the apple slices very close to each other (their volume will decrease while cooking), leaving a few millimeters around the edge of the pan empty (so you can tuck the dough).
If you use the readymade dough, I suggest you to cook the apples for about ten minutes in a 180° C oven, before you cover them with the dough (since the average readymade dough has a 10 to 15 minutes cooking time). Then take the pan out of the oven, let it cool for a minute, cover with the dough (tucking the dough all around the apples) and then put it back in oven until the dough is golden brown (it will take about 15 minutes).
If you use the home-made dough, you have to take it out of the refrigerator and roll it out until you have a round sheet (equal or slightly larger than the diameter of the pan) about half a centimeter thick. You'll use this sheet to cover the apples (remember to tuck the dough around the apples). Bake in a 200° C for 15 minutes, then lower the temperature to 180° C and continue cooking for another 15 to 20 minutes (or until the dough is golden brown).
Take it out of the oven, let it cool down for a bit, take a fork and….. bienvenue à Paris…