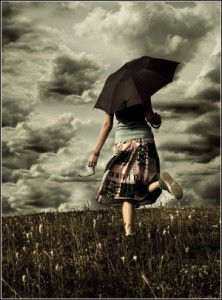 ….. again
Don't get me wrong….. we need the rain, bad!
However, several times today, people told me to 'stay dry.' Has anyone ever told you that?
Don't you ever want to just go out and play in the rain? You know…..
Just run in the rain until you are soaked.
Jump in every puddle you can find.
Stand there looking up into the sky with your mouth wide open as you try to drink the rain.
When I was a kid, we looked forward to playing in the rain! And we were allowed to stay outside as long as it wasn't thundering.
What about you?
Don't you sometimes just want to go outside and play in the rain?
How do we get that back? How do we shake off all of the newly ingrained ideas that we have now, that prevent us from being free like that?
Thoughts? And the only excuse that I'll accept for not responding is that you were actually outside playing in the rain!