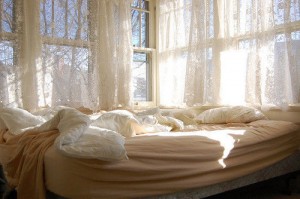 And these ones are tasty, easy to throw together and you can flavor them beautifully with any seasonal fruits….. in this case I chose to flavor them with vanilla, oat, coconut-strewn and mango.
I love these beauties for many reasons.
First, you can mix them by hand and there will be very few dishes (always a good thing).
Second, they are produced with: coconut oil (If you want to lose weight, this is a great product for cooking and baking).
Last, they have a slight heartiness from the oats, a nice sweetness from the mango and coconut, and a speckled fragrant crumb from the vanilla bean.
They really are the best of many worlds baked into one pretty spring muffin.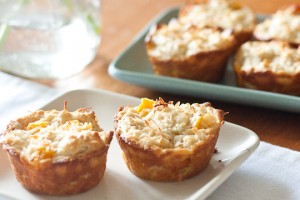 Spring Morning Mango Coconut Oat Muffins (makes 10 large muffins)
All you need:
1/2 cup (virgin) coconut oil
3/4 cup all-purpose flour
3/4 cup oat flour
1/2 cup rolled oats
1 1/2 teaspoons baking powder
1/4 teaspoon salt
1/2 cup unsweetened wide-flake coconut
1 cup full fat sour cream, room temperature
1/3 cup granulated sugar
1 large egg, room temperature
1 teaspoon lemon zest
1 vanilla bean, split
1 cup diced mango
1/4 cup sweetened shredded coconut, for top
Do this:
Preheat oven to 180 ˚C.
Grease 10 muffin cups with butter.
In a small saucepan, warm coconut oil, until it barely melts. Set aside.
In a medium bowl, whisk together both flours, oats, baking powder and salt. Stir in 1/2 cup of the unsweetened coconut.
In a separate bowl, whisk together sour cream, sugar, egg, lemon zest and liquefied coconut oil. Scrape the insides of the vanilla bean into the mixture and whisk well. Add the wet mixture to the dry ingredients and stir until just combined. Add diced mango and gently fold until combined.
Divide batter among prepared muffin cups, then sprinkle the tops with 1/4 cup of the sweetened coconut, about 1 teaspoon on each.
Bake until a toothpick or tester inserted into the center comes out clean, 23-25 minutes.
Transfer muffins to a rack and let cool.
Tip: if covered at room temperature, muffins will be good for 2-3 days.