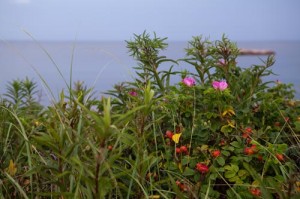 ….. has come in to the sky and sea. It is sudden, and yet it must have been gradual, this transformation to high summer.
The rose hips on the bushes down on the beach is still light orange, so there will be a little more time for the sun to bake them, until they becomes the right color and is ready to be picked.
But it is not only the plants that mark the rise of high summer: it is the people to. Most of the day they are there on the beach, playing games, sunbathing and as good as naked, rushing into the sea to cool off.
In the evening, families are barbecuing and drinking bottles of soda and vine cooled in the sea, and after they go home to put their kids to bed, the youngsters will take over, building bonfires and singing songs - and in the morning, they will be the first ones to hear the soft twittering of the swallows.
Cottage cooking:
As a child, my mother showed me that the rose hip (the orange berry-like fruit that remains on the rose plant once the flower has died) can actually be used for many things including jam, jellies, and syrup.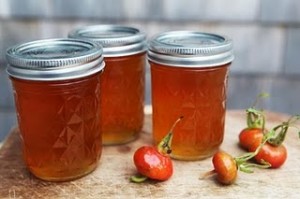 Rose Hip Jam
All you need:
200g trimmed and seeded rose hips
175ml water
3 tablespoons lemon juice
400g caster sugar
50g powdered fruit pectin
175ml water
Do this:
Prepare the rose hip by cutting off the flower and stem ends. Cut the hip in half and remove the seeds.
Put the prepared rose hips, water and lemon juice in a liquidiser; blend until smooth, about 15 seconds. Small bits of rose hips skin are okay. Gradually add the sugar while blender is running. Blend until sugar is dissolved, about 30 seconds or so.
Stir the pectin into 175ml water in a saucepan. Bring to the boil; boil hard for about 1 minute. Slowly pour into the rose hip mixture; blend for about 30 seconds.
Pour into small containers with lids. Store in the refrigerator. Jam that is not used within a few weeks can be stored in the freezer for up to a year.