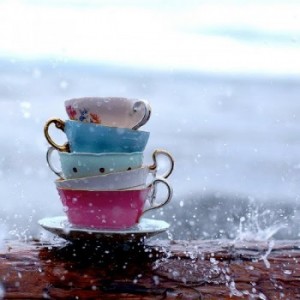 ….. over the past couple of weeks, we now have rain, and it is perhaps not the best start to the summer holiday….. but it is what it is, and one must make the best of things:
So, the perfect cure for a rainy day: Tap some sunshine on a jar.
Cottage cooking:
This rainbow cake recipe will surely brighten up even the grayest of rainy days.
"Sunshine on a jar," a simple recipe - but great entertainment for you and your kids, if the weather keeps you trapped in a small summerhouse somewhere.
It's just a basic white cake turned into a slew of bright colors, baked and topped with a creamy white frosting.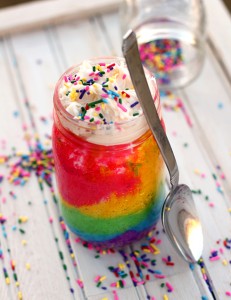 Rainbow Cake in Jar (recipe and photo: Brooke MCLAY)
All you need:
1 box white cake mix made according to package instructions
Neon food coloring in pink, yellow, green, turquoise, and purple
3 one-pint canning jars
1 can vanilla frosting
Rainbow sprinkles
Do this:
Preheat oven to 350 degrees. Thoroughly wash and dry the inside of each canning jar. Spray the inside of each jar thoroughly with nonstick cooking spray. Set aside.
Scoop about 1/2 cups of cake batter into five small bowls. It doesn't have to be perfect, don't panic if you get a little more of less of one color than another. Tint each bowl of cake batter with the food coloring until very vibrant.
Spoon about 3 tablespoons of the purple batter into the bottom of each jar. Spoon equal amounts of turquoise batter, then green, yellow, and pink. Place the jars in a shallow baking dish, add about 1/4″ in water in the baking dish. Place the baking dish in the oven and bake for 30-35 minutes.
Remove jars and allow to cool completely before scooping a small portion from the top of your cake and adding a hefty dollop of vanilla buttercream to the top. Sprinkle & serve, or cover with a lid and store in the fridge or pop into the mail & surprise someone you love!