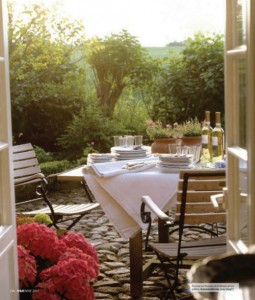 ….. are glorious here at last, and we sit out more often on the terrace. At lunch we enjoyed my latest dish, Italian summer pie, stuffed with asparagus and small baby carrots.
As the days lengthen, we agree to have a stiff drink laden with mint, that grows happily here in a jar next to the terrace. Whether it is as a salute to the sky about to darken as night falls or to the sea seems insignificant.
Before dinner we go down to our perfect beach to test the water, which is suddenly warm, despite the wind which blows from the north and turns the sea in to a raging maze of deep blue.
After swimming, we sit in the dunes, still warm from the day's sun, and look out at the sea, and we say to each other, as we so often have before, this is a perfect end to an (almost) perfect day.
Cottage cooking: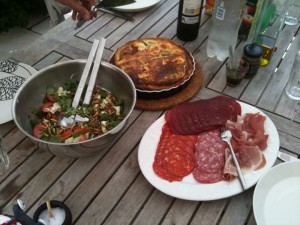 Italian summer pie (6-8 persons)
Dough:
Two dl wheat flour
1 dl dinkel flour
150 g butter
2 tbsp. cold water
Alternative: you can buy a pre-made butter dough (I did).
Filling:
1 bunch green asparagus
1 bunch baby carrots
1 box cress
3 eggs
2 dl whipping cream
2 dl 38% cream fraise
1 ½ dl grated Parmesan
½ teaspoon salt
a pinch of pepper
Do this: Mix flour and butter to the dough (preferably in a blender).
Add water to the dough is ready. Let it rest 15 minutes in the refrigerator.
Press or roll dough out into a tin with removable rim (about 24 cm diameter).
Bake pie base for approx. 10 minutes at 200 degrees.
Clean the asparagus and carrots.
Cook the vegetables in lightly salted water for approx. 3 minutes. Guilt them in cold water and cut them into smaller pieces. Spread the vegetables on the pie base.
Mix the rest of the ingredients to an egg mixture and season with seasoning. Pour the mixture over the vegetables and punch with a fork so it runs down all over.
Bake pie at the bottom of the oven for approx. 45 minutes to the pie are solid and have a nice color (wrap in foil if needed).
Remove pie from the oven and garnish with cress.
Tip: As you can see on the photos, we served the pie in company of an Italian inspired salad, Parma ham and salami.
Buon appetito!