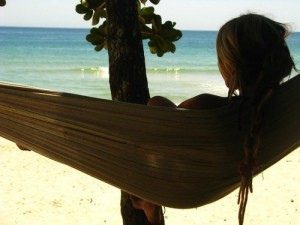 ….. our paradise, what stands out most is the way everything is changing, thanks to tourism….. but some of these changes (contrary to received opinion) actually improves the way of life here (such as, the new bakery - they make the most delicious strawberry cakes), for visitors and residents alike. In this village so remote that it is more or less off the map, shops are selling everything from light bulb to Irish whiskey.
Of course, there are changes to out private paradise too. Once the early spring of our arrival turns in to summer, more visitors will arrive on the beach.
But still, soon strawberries will be popping up everywhere, and the lovely bay will lye there open for everyone, as the path down has always been open for fishermen as visitors alike.
Cottage cooking:
Strawberry cake is a wonderful Danish classic with Mazarin, chocolate, vanilla cream and strawberries.
So inspired by our new bakery, I baked one of my own.
The secret is a good Mazarin mass. It makes the bottom of the cake juicy and tasty and combined with the top of dark chocolate, vanilla cream and strawberries it is absolutely divine.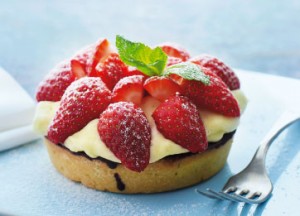 Strawberry Cake
Short pastry:
200 g wheat flour
100 g icing sugar
120 g cold butter into small cubes
1 small egg
Mazarin:
150 g marzipan
150 g cane sugar
100 g soft butter
2 eggs
50 g flour
100 g good dark chocolate
Vanilla Cream:
2 1 / 2 cup milk
2-3 tbsp. sugar
grains of 1 vanilla pod
1 cup pasteurized egg yolks
1 tbsp. cornstarch
approx. 500 g strawberry

Short pastry:
Put flour and icing sugar in a bowl and crumble. Add the egg and collect the dough. Place pastry cold approx. 1 hour.
Mazarin:
Mix marzipan and sugar to a smooth paste. Add the butter a little at a time and whisk. Then add the eggs one at a time, and finally, beat the flour in.
Roll pastry out and place it in a greased pie dish around. 28 cm diameter, so it covers bottom and edge.
Add mazarin on top of pastry and spread it evenly.
Bake cake in middle of oven at 200 degrees for approx. 25 min.
Take the cake out and cool it.
Melt the chocolate in a bowl over a water bath and brush the pie with chocolate. Let the chocolate harden.
Vanilla Cream: Pour milk, sugar, vanilla seeds, egg yolks and cornstarch in to a small saucepan and cook over low heat to the cream thicken. Remove custard from heat and cool.
Top the cake with the vanilla cream and garnish with the strawberries.