….. the saladsisters Tina Scheftelowitz and Sonja Bock and their recipes based on all good and fresh - do you remember the days when a salad was simply a pile of lettuce leaves and a few tomatoes?
Well, we move towards times of healthy eating, and the salad is taking centre stage on the dinner table, and it is hardly surprising with the wealth of fresh ingredients available from our own gardens, farmers markets, delis and supermarkets….. there is every reason to serve bright, beautiful, healthy and varied salads…… as this lovely: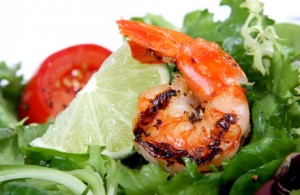 Prawn-salad (serves 4)
It's a great salad to toss together when you get in the mood for some sunshine food.
You need:
About 24 raw tiger prawns, shell on
1 tsp coriander seeds
1 tsp mild curry powder
3 tbsp olive oil
200g mixed salad leaves of your choice
2 tbsp chopped fresh coriander
Sea salt and freshly ground black pepper
Dressing:
1 fresh lemon grass, outer leaves peeled off then chopped finely
½ plump red chilli, seeded and thinly sliced
2 tbsp Thai fish sauce (nam pla)
2 tbsp light soy sauce
4 tbsp sunflower oil
2 tbsp rice wine or white wine vinegar
Juice 1 lime
And it is so easy:
Peel the prawns, leaving the tails if liked. De-vein them down the back, hooking out the thin black intestine. Crush the coriander in a pestle and mortar or with a rolling pin. Mix with the prawns, curry powder and oil. Leave for half an hour.
Meanwhile, mix all of the dressing ingredients together and set aside. When ready to serve, stir-fry the prawns in a nonstick wok, about 3-5 minutes. Season lightly.
Mix in the dressing and toss until heated and well coated. Place the salad leaves on a platter and spoon over the prawns and their pan juices. Scatter over the coriander and serve.
Tip: Use fresh raw prawns if you can, because to be honest precooked ones tend to be totally overcooked to prolong their shelf-life, which does nothing for their flavor.
Enjoy ♥ Lizzy