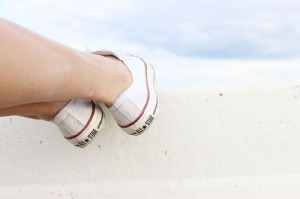 ….. but for me the combination between the colors white and red means summer.
First of all for clothes, cause in summer white is THE color and in combination with red, it is simply divine (I have an unbridled love for sailor t-shirts in red and white….. and for white converse - but maybe that's just my mental disturbance).
White and red also works for food….. if you think about it for a moment you'll realize that I am not ranting (not too much, at least): e.g. caprese salad (tomatoes and mozzarella is the perfect example of a red and white summer combination), pasta goes well with juicy summery cherry tomatoes, and let's not forget the multitude of red summery fruits…..
To honor this latter category, I decided to combine strawberries and something white and succulent. So, since I'm a true Dane (yes we are the true incarnation of red and white, let this be known), I immediately thought of panna cotta (it should probably have been red porridge with cream - but I just love Panna Cotta). It's a fresh and summery dessert (that's for sure), and you can combine it with any fruit you want - you could use strawberries, raspberries, apricots, blueberries, peaches….. in short, whatever you like, and the result will be unbeatable.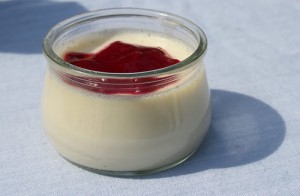 PANNA COTTA WITH STRAWBERRIES COULIS
All you need (4 servings):
400 ml whipping cream
100 ml milk
100 g powdered sugar
3 gelatine sheets (6 g)
vanilla bean
For strawberries coulis
250 g strawberries
2 tspn of sugar (or more)
Do this:
Soak the gelatin sheets in cold water for 10 minutes. Meanwhile, pour whipping cream and milk in a saucepan and put it on a low flame, add the vanilla bean cut lengthwise in the saucepan, and then add the sugar and stir, so that it fully dissolves. Bring almost to boiling point and then turn off the heat and remove the vanilla bean. Squeeze the gelatin sheets and place it in the saucepan with cream and milk, stirring so that the gelatin completely dissolves.
Wet the molds with cold water and pour the mixture into them, strain it through a sieve. Put them in the refrigerator for at least 5 to 8 hours, but you can prepare your panna cotta the day before (it will be even better).
About an hour before serving, prepare the strawberries coulis: wash and clean the strawberries, place them in a food processor with two tablespoons of sugar (or more, if you prefer) and blend briefly. If you prefer a sauce without seeds, strain the strawberry puree through a sieve, otherwise put the coulis in the refrigerator to cool.
Before serving: decorate the Panna Cotta with strawberry coulis and enjoy.