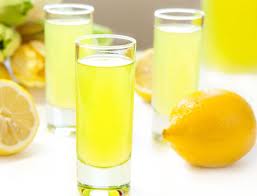 ….. limoncello was in Italy, and I remember looking down at the tiny glass in my hand thinking, that perfection had just slid across my tongue in one ice cold sip.
Sure, you can buy this liquid sunshine in most stores, but it's so easy to make and it is totally worth the effort!
Limoncello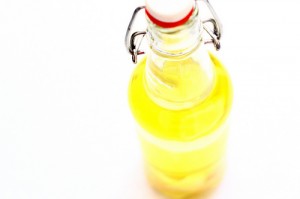 All you need:
200 g caster sugar
150 ml water
zest and juice of 6 unwaxed lemons
700 ml vodka
Do this:
Put the sugar and water in a saucepan over medium heat. Stir to dissolve the sugar. Bring to the boil, then simmer for 3-4 minutes until the bubbles look syrupy. Leave to cool.
Add the lemon zest and juice to the syrup while it is still slightly warm. Then add the vodka.
Pour into sterile bottles and seal.
Leave in a cool, dark place for 1 month, shaking every day for the first week. After a month the lemon liqueur will be ready to drink. Strain into clean bottles.
Put in the freezer (or refrigerator) for several hours before serving.
Sip the limoncello while it's dreary and overcast outside and bring a little sunshine to a cold winter day.