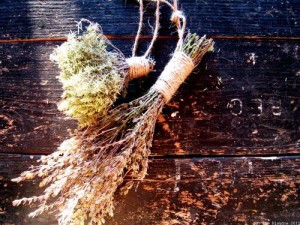 ….. the herbs would have been gathered, some dried and hung as a bouquet to mark the perpetual spring in Paradise.
Rosemary, with its pale blue flowers that come out beside the sea even in the roughest of whiter storms, would have been stuffed into lamb, or wild fennel with its strong aniseed flavor (leaves no room for the middle ground - fennel is something that most people either love or hate) would have been used for culinary or medicinal use.
Cottage cooking: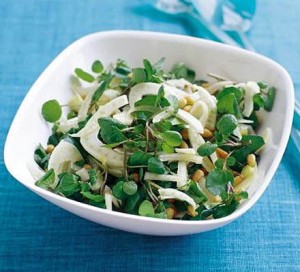 Fennel, watercress & pine nut salad
Marinating the fennel with an orange dressing gives this salad a delicious, fresh zing.
All you need:
Ingredients
juice from 1 small orange
3 tbsp olive oil
1 large head fennel, halved and thinly sliced
a handful watercress
50g toasted pine nuts
Do this:
In a large bowl, whisk the orange juice and oil together with a fork and season to taste. Add the fennel and toss to coat. Leave to marinate for 10 mins if you have time.
Just before serving, tip the watercress and pine nuts into the bowl and toss well to combine.