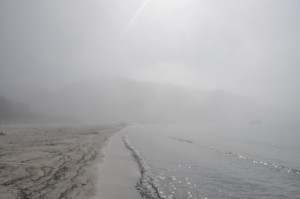 ….. surprised by sea-fog.
I was on the beach walking the dogs, and on my way home, I was caught in a curtain of invisibility.
When I arrived home, I looked so pail as if the fog had washed my face with white vapour.
But the sight of the wonderful meal my husband had prepared, brought color back to my cheeks instantly.
Cottage cooking: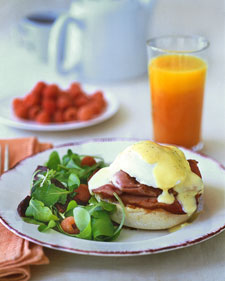 Eggs Benedict
All you need:
1 tablespoon white vinegar
8 large eggs
Hollandaise Sauce
1/2 pound (16 slices) Canadian bacon
4 English muffins, split in half, toasted
Do this:
Fill a large saucepan with about 4 inches of water, add vinegar, and bring to a boil. Fill a shallow dish (or pie plate) with warm water. Reduce heat under saucepan to medium, so water is just barely simmering. Break 1 egg at a time into a small heatproof bowl. Gently tip bowl into water; carefully slide egg into water. Repeat with remaining eggs.
When eggs begin to become opaque, remove them from the saucepan with a slotted spoon in the order in which they were added. Transfer the eggs to the dish of warm water.
Prepare the hollandaise sauce, and set aside, keeping it warm.
Heat a medium skillet over medium heat. Add bacon, and cook until well browned on both sides. Divide bacon among the English-muffin halves. For each serving, use a slotted spoon to remove one egg from warm water; set spoon and egg briefly on a clean cloth or paper towel to drain. Gently place the egg on a bacon-topped muffin, and spoon the reserved warm hollandaise sauce over the top.
Hollandaise Sauce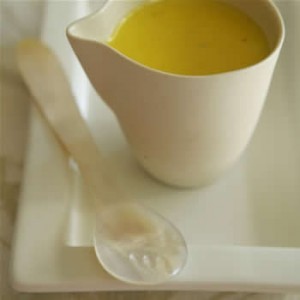 All you need:
3 large egg yolks
Juice of 1 lemon
1 teaspoon salt
1/4 teaspoon white pepper
12 tablespoons unsalted butter, melted and hot
Do this:
Place the top of a double boiler or a heatproof bowl over a pan of hot water on low heat. Place yolks, lemon juice, salt, and pepper in a blender with 1/4 cup water. Puree until smooth. While machine is running, slowly drizzle in hot butter. Use immediately, or transfer to double boiler and keep warm over very low heat, whisking occasionally. Do not allow mixture to get too hot, or it may curdle.