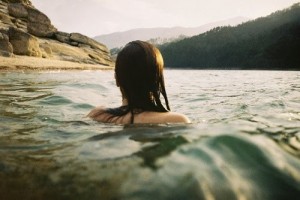 ….. my birthday.
It's the 28th of august and it's late summer here in paradise - soon the swallows will get ready to fly south - but still, every morning, I am going right out to sea, slowly carving the gentle deep blue of an late August ocean, in to slices of pure azure.
Anton and Murphy is sitting, waiting for me on the beach, looking longingly at a large seagulls sitting close by, and I feel grateful, the swallows have gone, the seagulls can defend itself - not like the little blackbird which was taken by the neighbor's cat - I swear, that cat spend all summer, waiting under the nest for the baby bird to fall into it's mouth - nature can be so cruel sometimes!
Cottage cooking:
Food eaten in the dog days (not a lot of those around this summer) needs to be light - and tempting. Like thinking back on my morning swim, I can almost taste the salt on my lips, as I lift the fork for the first life-saving mouthful.
The lovely taste of Greek feta has that special salty flavor, which is perfect through late summer.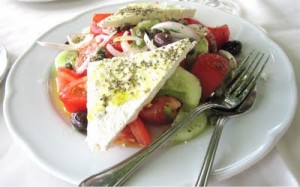 Greek tomato & cucumber salad
All you need:
2 ripe tomatoes, quartered
1 large cucumber, chopped and halved
1/4 Kalamtata Olives
2 T Capers
1/2 cup thinly sliced red onions
1 slice Greek Feta
2 T Olive Oil
Fresh lemon juice from 1/2 lemon
1/2 tsp. lemon zest
Do this:
Combine all ingredients and serve immediately… ENJOY!!