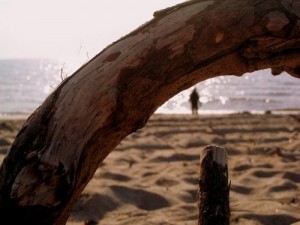 ….. the beach before us, and we stand in silence on the sand, as soft and golden as the light on an early morning dawn.
Where once there had been a lot more gravel than sand (uncomfortable if you sunbathe) there is now a holiday brochure version of a real sand beach that stretches all the way down to the turquoise blue water.
It is impossible to know how many storms has shape our beach, but the sight of Felix, Frank's little grandson, running across the sand with a expression of true joy on his face makes the question unimportant.
Let's go down to the cafe, I suggest, when Felix asks for his father Jan, who with his wife Anne-Lisa runs the cafe down by the harbor. It is as if the new beach and the glorious feeling of the early summer coming to Denmark had filled us all with life's possibilities.
Cottage cooking:
These tasty burgers with a quick tomato relish are perfect for a beach barbecue.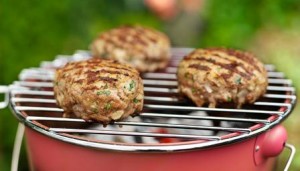 Spicy lamb burgers with coriander, tomato and yoghurt relish
All you need
1kg minced lamb
2 garlic cloves, crushed
1 medium onion, finely chopped
1-2 tbsp mango chutney
3cm piece of fresh ginger, peeled and grated
1 red chilli, de-seeded and finely chopped
¼ tsp ground turmeric
1 tsp coriander seeds, crushed
1 tsp cumin seeds, crushed
flaked sea salt and freshly ground black pepper
oil, for brushing
flat bread, pitta bread or burger buns, to serve
For the relish
6 ripe tomatoes, quartered, de-seeded and diced
200g tub of Greek yoghurt
bunch of fresh coriander, roughly chopped
1 small red onion, finely chopped
squeeze of lemon or lime juice
Do this:
Place the minced lamb in a large mixing bowl and add the garlic, onion, mango chutney, ginger, chopped chili, turmeric, crushed coriander and cumin. Season well with salt and pepper and mix by hand until combined.
Divide and shape the mixture into 8-10 burgers.
Place the burgers on a cling film-covered tray and keep them in the fridge to relax for at least 30 minutes. They're ideal made the day before cooking.
To prevent the burgers from sticking, brush with a little oil before barbecuing over medium-hot coals for about 5-6 minutes each side.
Mix together the tomatoes, yoghurt, coriander, onion and lemon or limejuice and season to taste with salt and pepper. Serve with the burgers.