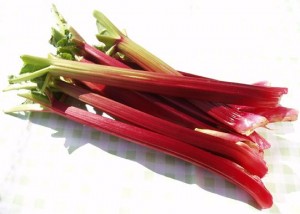 ….. is because of all the fresh spring/summer vegetables that find their way to our local farmers market, and even to our supermarket around the corner….. fresh asparagus, lovely rhubarbs and sweet strawberries. And they aren't even expensive!
So with all these fresh vegetables in our Cottage, we have to start making some early summer recipes, like this: very simple version of a traditional Italian dessert with a twist of Danish spring!
You don't need an oven to make it (but you do need a fridge).
Rhubarb tiramisu.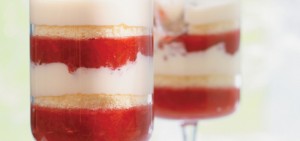 All you need:
200 g caster sugar
50 ml water
400 g rhubarb, cut into 4cm pieces
4 eggs, separated
1 orange, juice only
250 g mascarpone
200 g boudoir biscuits, (sponge fingers)
50 g flaked almonds
Do this:
Dissolve half the sugar in the water and simmer for 2-3 minutes. Add the rhubarb to the pan, and cook gently for 3-4 minutes, until tender but still holding its shape. Leave on one side to cool.
Whisk the egg yolks with the remaining sugar until pale and fluffy. Whisk in the mascarpone cheese and beat until smooth.
In a separate bowl, whisk the egg whites until they resemble soft peaks. Fold into the egg and mascarpone mixture.
Remove the cooled rhubarb from the syrup and set aside. Add the orange juice to the rhubarb syrup and strain into a bowl.
Dip half the biscuits in the cooled syrup and use to line the base of a 28cm gratin dish or glass bowl. Spread half the mascarpone mixture over the biscuits and top with half the rhubarb. Cover the rhubarb with another layer of biscuits dipped in syrup. Spread with the rest of the rhubarb, followed by the remaining mascarpone mixture. Cover with cling film and chill for about 6 hours, or overnight.
Toast the almonds in a dry frying pan for 2-3 minutes until they turn golden brown. Set aside to cool before scattering over the tiramisu.
Enjoy
♥ Lizzy