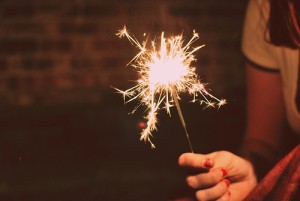 We are still in the Swedish mountains, where we intend to stay well into the new year.
Here, surrounded by lots and lots of lovely snow, we will celebrate new year's….. we're going to bake a "Kransekage", play cards, and drink lots of champagne (of course).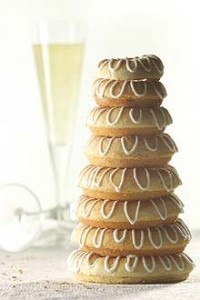 Kransekage - 2 cakes - approx. 20 people
Cake:
500 grams of pure, raw marzipan
100 grams sugar (about 1 ¼ cups)
2 pasteurized egg whites
icing sugar
Glaze:
150 g icing sugar (about 3 cups)
1 pasteurized egg whites
½ teaspoon white wine vinegar
Brushing:
butter - melted
breadcrumbs
Baking time:
6-8 min. at 250 °.
Mix the marzipan, sugar and egg whites together (the dough will be sticky). Divide the dough into 2 and roll each portion into 8 "bars", about 1 ½ cm thick - roll with icing sugar on hands and table. Butter the cake rings and sprinkle them with fine bread crumbs. Place marzipan bars in the cake rings and place the cake rings on a baking sheet. Bake cake rings in the middle of the oven.
Glaze: Stir icing sugar, egg white and vinegar together to form a thick and chewy glaze. Fill it in a plastic bag and cut a small hole. Spray the "Kransekage" like the picture.
Tips: Dry cake rings with a paper towel between each baking and repeat with butter and breadcrumbs - do not wash the rings with soap.
You can also bake the cake without cake rings. Form "the bars" in to rings - the smallest must be 14 cm long. Increase each bar with 2 cm - see below. Place them on a plate with wax paper. Bake cake rings in the middle of the oven - until golden.
Size and weight of the rings:
14 cm - 20 g marzipan
16 cm - 26 g
18 cm - 32 g
20 cm - 38 g
22 cm - 44 g
24 cm - 50 g
26 cm - 56 g
28 cm - 62 g
This cake tastes great with sweet champagne or a champagne liqueur: 1 ½ cup orange liqueur and 2 bottles dry champagne…… in Denmark, it is traditional to eat "Kransekage" and toast in champagne at 12 on New Year's evening.
Anyway….. 2010, you've been very good to me, and I'm a little sad to say goodbye…… but I also know that 2011 will bring its own gifts and adventures, so I'm ready.
Here's wishing you a very happy, healthy, joyful new year!
Love
Lizzy