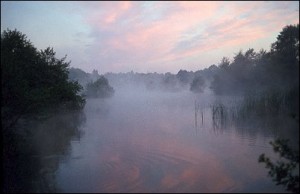 ….. is drifting over Hammermøllen (The Hammer Mill)….. it's a fascinating place to visit on autumn Sunday.
Between trees, sea glimpses and birdsong ….. there at the edge of a pond surrounded by trees, lies Hammermøllen.
….. this place radiates old craftsmanship, peace and tranquility.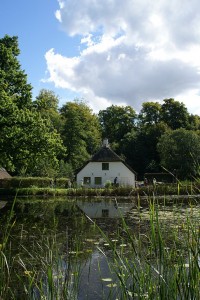 Tranquility? Yes Hammermøllen looks like postcard idyll….. ironic that such a poetic and irresistibly charming place was used for cannon and gun production for the Danish navy and army (from the commencement in 1601 and until 1630 the foundry produced no less than 300 cannons to the king's ships)….. and today, Hammermøllen is still alive, with occasional demonstrations, exhibitions and films.
But there is much more to experience out there in the woods….. the dams, dikes and forest roads….. birds pass by here on their way south, and the attentive wanderer may experience rare birds here, which has disappeared completely elsewhere…… or you can just enjoy life, and the many tree crowns shadows you will find here, on a lovely autumn day.
Happy Sunday
♥ Lizzy