….. cook, and already as a little girl, I began to sneak into the kitchen. Together with my mom, I baked cookies and buns, and while my brothers spent all their time climbing trees and playing war, I spent hours in the kitchen, learning all my mom's tricks.
Today I have a very casual relationship with food. It must be relaxed and not too complicated….. especially those days when I come tired home from work …..
Here is a tip for a quick but fantastic Gazpacho (2 servings)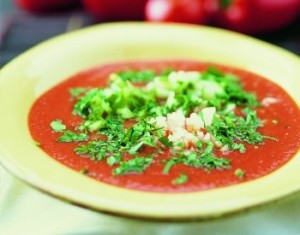 Ingredients:
1 dl tomato juice
One slice of white bread
1 red pepper
½ cucumber
1 box cherry tomatoes
1 clove garlic
Juice from 1 lemon
2 tablespoons olive oil
Salt
Pepper from the mill
A few drops of Tabasco
Do this:
Let the bread soak in tomato juice.
Mix bread, vegetables, garlic, lemon juice and olive oil in a blender.
Taste the soup with salt, pepper and Tabasco.
Gazpacho is a typical dish from Andalucia, where also the flamenco and other hot stuff comes from. Here you eat simple, green and strong.
Enjoy!