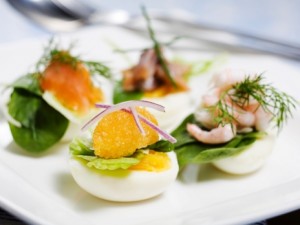 Ingredients:
4 x hard boiled eggs
1 anchovy fillet
1 dl shrimp, peeled
2 slices smoked salmon
8 tablespoons caviar and a little salad for garnish
Do this:
Boil the eggs and rinse them in cold water.
Cut them in half.
Add a little salad on each half and garnish with salmon, prawns and anchovy filet.
Photo: Fredrik Sandin Carlsson