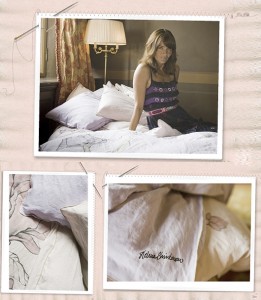 Odd Molly lancere sengetøj
The super cool brand Odd Molly continues their success in the fashion industry by launching a collection of linens.
Det super cool mærke Odd Molly fortsætter succesen i modebranchen, med at lancere en kollektion sengetøj.
It is a surprise…… but one of the positive ones….. and great timing….. just prior to the Christmas trade……. if you are a regular reader here on my blog, then you know: I just love this cool brand, and this linens has immediately been added to my list of things, I want for Christmas.
Det er en overraskelse…… men en af de positive….. og en fantastisk timing….. lige op til julehandlen……. hvis du er fast læser her på bloggen, så ved du, at jeg elsker Odd Molly, og derfor er deres sengetøj straks blevet sat på min liste over ting, som jeg ønsker mig til jul.
It's a limited edition of linens designed by supermodel Helena Christensen, and the style is feminine, romantic and with many beautiful details.
Dette begrænsede oplag af sengetøj er designet af supermodellen Helena Christensen. Stilen er kvindelig, romantisk og med mange skønne detaljer.
Here you can signup for the perfect Christmas gift for your friends, your sister…. or maybe yourself?
Her kan du sign up til en perfekt julegave til din veninde, søster…. eller måske dig selv?
Photo: Odd Molly
Check today's post on: Delightful People