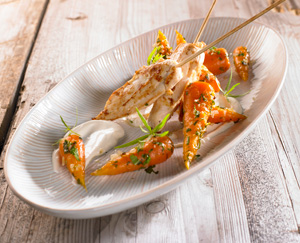 Another beautiful summer day is out there, waiting ……… and I am quite prepared to enjoy it on the beach…..
But after spending a day in the sun, I am usually not very hungry, and I only need a light dinner. Here is a proposal for an easy light summer recipe:
Carrots baked with fresh herbs, ginger fried chicken breast and feta cream
Ingredients (4 people):
300 g small carrots
1 large onion
2 tbsp oil
1 small bunch of broad-leaved parsley
4 pcs chicken breast
1 tbsp finely grated fresh ginger
2 cloves garlic
8 wooden spears
100g feta
2 dl sour cream 18%
Salt, pepper and lemon
Method: Preheated oven to 190 degrees. Wash carrots (peel, depending on temperament). Turn the roots in oil with finely crushed onion and chopped parsley, and season with salt and pepper. Bake the roots in 15-20 min. Rub the chicken breasts with ginger and garlic and fry the spears on a hot frying pan. Blend the feta and sour cream to a creamy texture, with a stick blender. Season with salt, pepper and fresh lemon juice.
Ha a great sunny day
En let sommer middag
Endnu en dejlig sommerdag ligger der ude og venter……… og jeg er helt parat til at tage til stranden og nyde den…..
Men når jeg har tilbragt en hel dag i solen, er jeg som regel ikke særlig sulten om aftenen, og jeg har derfor kun behov for noget let. Her er et forslag til en let sommer middag:
Gulerødder bagt med friske urter,
 ingefærstegt kyllingebryst og fetacreme
Ingredienser (4 personer):
300 g små gulerødder
1 stort løg
2 spsk olie
1 lille bundt bredbladet persille
4 stk kyllingebryst
1 spsk fint revet, frisk ingefær
2 fed presset hvidløg
8 træ spyd
100 g feta
2 dl creme fraiche 18%
Salt, peber og citron
Fremgangsmåde: Ovnen forvarmes til 190 grader.
Gulerødderne vaskes (og eventuelt skrælles, alt efter temperament).
Vendes herefter rødderne i olie med finthakket løg og hakket persille, og krydrer til sidst med salt og peber. Rødderne bages i 15-20 min.
Kyllingebrysterne gnides med ingefær samt hvidløg og gennemsteges på spyd på en varm pande. Feta og cremefraiche blendes sammen til en lind creme med en stavblender.
Smag til med salt, peber og saften af en frisk citron.
Ha en god dag