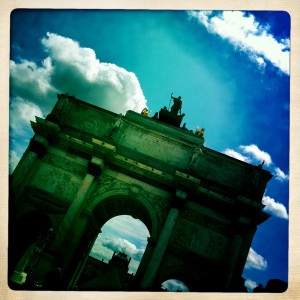 ….. summer holiday, I find myself missing Paris more and more (the weather forecast promises rain well into the future).
So right now we're leaning towards visiting a place where the sun shines (and summer always remind me of my time in Paris and Italy). Looking at old photos and recalling the vivid colors and sounds of the cities brighten my feelings of nostalgia. Sometimes I forget what I saw or breathed in, until I browse through my pictures. The major sites stick out to me, but it's the little things, like this creme brulee, that makes my memory gloss over.
I'm sure many of us travel and store thousands of digital photos tucked away in our computers, most never making it to the print world. Like the saying of the tree falling in the forest, what happens to a photo or a memory that is never looked at again? In addition to sharing this storie, I want to use this post as a visual space to showcase and bring life to one of my "lost" captured travel moments……
….. perhaps it will feel like visiting Paris all over again.
Have a great weekend.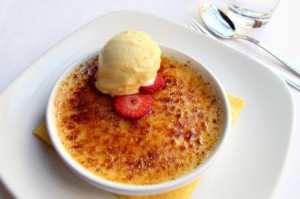 Crème Brûlée a classic French recipe
All you need:
500ml double cream
1 vanilla pod
100g caster sugar (plus extra for the topping)
4 egg yolks
1 whole egg
Do this:
Preheat the oven to 125 degrees Celsius
Pour the cream into a saucepan. Split the vanilla pod lengthways and scrape the seeds into the cream. Chop the empty pod into bits, and add these too. Bring to boiling point, then turn off the heat and put a lid on. Leave to infuse for five to ten minutes.
Beat the sugar and all the eggs together in a large heat-proof bowl until pale and creamy. Bring the cream back to boiling point, then pour over the egg mixture, whisking all the time until thickened - this indicates that the eggs have begun to cook slightly (you should have a smooth custard the consistency of double cream - a grainy texture means it's been overcooked and you'll have to start all over again).
Strain through a fine sieve into a large jug, then use this to fill 6 ramekins about two thirds full.
Place the ramekins in a large roasting tray and pour in enough hot water to come halfway up their sides. Place on the centre shelf and bake for about 35-40 minutes, or until the custards are just set and still a bit wobbly in the middle.
Remove from the water and allow to cool (to room temperature).
When you're ready to serve, evenly sprinkle one teaspoon caster sugar over the surface of each Crème, then caramelise with a blowtorch. Leave to cool for a couple of minutes…..
….. and then enjoy one of France's greatest contributions to eating pleasure!