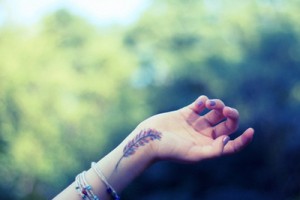 ….. and I promise and promise, and then I don't fulfill.
Every single time, in fact, I write a new post, I say that my presence on the blog is decreasing, but that I'll make up for it, that you'll see me more often….. but then I become preoccupied with other things, therefore, I further reduce my presence on this poor blog. Does saying that I'll patch things up bring me bad luck? Does life beyond the blog really absorb me so much?
Whatever it is, I really hope I'll be able to write a bit more in the next weeks, 'cause maybe I'll have a bit more time available (but I added the "maybe" just in case). But don't worry, in the past weekend I relaxed a bit and I cooked (hallelujah, hallelujah), so you'll have the pleasure (or displeasure) of seeing these 2 or 3 new recipes soon. Of course, if only I'd remember to take pictures every time I cook something new, maybe my blog will definitely improve, but I can't ask myself too much.
Coming back to topics much more interesting than my (lack of) mental health, let's talk about today's recipe. Some time ago I found this recipe and I fell in love;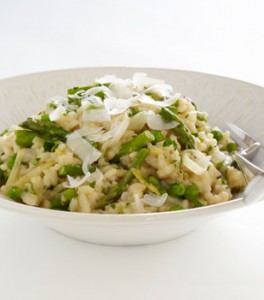 Risotto Alla Primavera
All you need:
6 1/2 cups (about) vegetable broth
3 tablespoons unsalted butter, divided
1 tablespoon extra-virgin olive oil
1 8-ounce onion, chopped
1 medium leek (white part only), sliced crosswise into thin rings
2 stalks green garlic, chopped, or 1 garlic clove, minced
2 cups arborio rice or carnaroli rice
1/2 cup dry white wine
1 cup 1-inch pieces thin asparagus
1 cup freshly shelled small peas or petite frozen peas (about 1/4 pound)
1/4 cup chopped fresh parsley
3/4 cup freshly grated Parmesan cheese, plus additional for serving
Do this:
Bring broth to simmer in medium saucepan. Cover; keep warm over low heat.
Melt 1 tablespoon butter with oil in heavy large saucepan over medium-low heat. Add onion, leek, and garlic - sauté until wilted and almost tender, about 6 minutes.
Add rice; stir until rice is translucent at edges but still opaque in center, about 3 minutes.
Add wine; simmer until almost all liquid is absorbed, stirring often, about 1 minute.
Add broth 1 cup at a time until rice is about half cooked, allowing each addition to be absorbed before adding next and stirring often, about 9 minutes.
Stir in asparagus, peas (if using fresh) and parsley.
Continue adding broth by cupfuls and stirring until rice is almost tender, about 6 minutes longer.
Add peas (if using frozen).
Cook until rice is tender but still firm to bite and mixture is creamy, about 2 minutes longer. Remove from heat.
Add 3/4 cup cheese and 2 tablespoons butter. Stir until cheese and butter melt.
Season with salt and pepper.
Serve passing additional cheese alongside.
Buon appetito