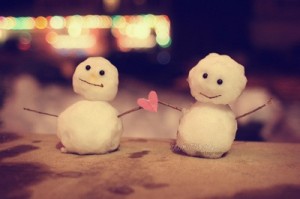 48 and single at Christmas….. I knew the awkward question would be raised "So have you had any dates this year?" as much as I could guarantee the lumps in Mum's gravy. But this was a record - 10 seconds after she opened the door….. first time she seen me in hmmmm a long time……
Reach a certain age, and if you're not happily co-habiting/engaged/married or romantically-active in some form or other, then it's going to be an issue - and never more so than at Christmas.
After all, the festive season was made for couples - or so it can bloomin' seem…
Everybody knows the line between being romantically-hopeful and downright desperate is never so fine as during the festive season….. and if you do get lucky, it probably means you ended up snogging the idiot from IT at your work party, but more likely you go home alone feeling even more HOPELESSLY UN-LOVED than ever.
….. and who has the money for all these new sparkly party frocks? I'm lucky if I can afford a christmas cake by the time I've bought presents for everybody else's kids and partners.
It's fine. I actually quite enjoy watching my brother and his wife exchange their never-ending stack of gifts….. Sure…… and after a few glasses of wine, facing my mother's interrogation about my worrying lack of suitors will be a walk in the park.
I've more pressing matters to focus on - like getting through the evening of movies without starting to sob and wail - "I know how Rudolph feels, an outcast, WAHHHH!"
SINGLES' CRISTMAS SURVIVAL GUIDE
COUNT YOUR BLESSINGS
It's easy to think the grass is always greener, but Christmas can be stressful for couples too. At least you don't have to worry about pleasing two sets of in-laws for the time-being! Make the most of this and embrace the chance to do things all on your terms.
GIVE MISTLETOE A MISS
Who doesn't want a kiss at Christmas? But if you've been single for a while the pressure to find romance can be immense at this time of year, which can leave you more deflated than ever if things don't work out. Make the choice to forget about love this year and just enjoy yourself and spending time with family and friends.
TREAT YOURSELF
No special someone to exchange gifts with? Heck - by yourself that necklace, perfume or those gorgeous shoes. Think of all the money you've saved by not having to buy presents for your other half.
IN GOOD COMPANY
It may feel like it, but you are not the only person who's single at Christmas. Make plans to catch up with a fellow singleton and go on a 'date' to watch that new movie together. If all your friends are loved-up, why not check out clubs and social groups in your area or look at volunteering opportunit. Anything's better than moping alone and it could be really rewarding.
BE PREPARED
If you're already dreading having to explain why you're still single, or reassure 'concerned' relatives that you're fine, just prepare a breezy response then laugh it off and forget about it.
LOOK AHEAD
Rather than feeling miserable about the things you don't have, focus on what you could have - all because you're single! This freedom won't last forever, so make a list of things you'd love to do in 2014, whether that's visiting tea shops in UK, learning a language or travelling - absolutely anything.
Merry Christmas
Lizzy