….. that tickle in the throat you get, when you know a cold might be coming on…..
….. I'm sorry, but that is NOT happening….. I need some chili and garlic NOW!
What do you do when you want to nip a cold in the bud.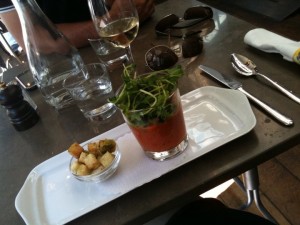 67,5 kg
Here is a tip for a quick but fantastic Gazpacho (2 servings) that will kill any cold.
You need:
1 dl tomato juice
1 slice of white bread
1 red pepper
½ cucumber
1 box cherry tomatoes
1 red chili
1 clove garlic
juice from 1 lemon
2 tablespoons olive oil
salt and
pepper from the mill
a few drops of Tabasco
watercress for garnish.
And it is so easy:
Let the bread soak in tomato juice. 
Mix bread, vegetables, garlic, lemon juice and olive oil in a blender.
Taste the soup with salt, pepper and Tabasco.
Garnish with watercress and serve.
Gazpacho is a typical dish from Andalusia. The photo is from this summer, when I had lunch at restaurant Riche in Stockholm.
My definition of a good restaurant is:
A pleasant little place with hearted-warm - simple, honest dishes on the menu….. and reasonable prices…..
I love authentic food experiences and joy of the moment - where senses and moods are stimulated…… my taste is quite simple….. but I am always satisfied with the best ….. and this soup where one of the best Gazpachos I've ever tasted.
Enjoy!
Photo: private, woman-hood